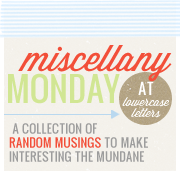 Monday's Miscellaneous Moment
~~~~~~~~~~~~~~~~~~~~~~~~~~~~~~~~~~~~~~
Time: 7:21A.M.
Location: Master Bathroom
Scene: Clara was busy crawling around while me and D were attempting to get ready for work. "Attempting" being the key word. Because for those parents that have babies who learned to crawl, your life basically just consists of trying to keep the little stinkers from hurting themselves!
Clara: "Mamamama" (
while trying to climb up on my lap
)
Me: Clara's onesie seems a bit low. Like a bit scandalous. :)
Me: I wonder how that happened. I mean, it's like she only stretched the top out..lalala (I really don't remember the rest of that but I think it was fairly boring but I really was perplexed.)
(
Meanwhile, I was sitting with my legs crossed on the floor indian style while she was using her arms to climb up on my lap while pushing her bottom up in the air. So like, if you were going to stand
like a spider on all floors without bending your knees. This proceeded to pull her little onesie even lower and kindof show her chest. Had she not been a baby this pose would have been a bit provocative due to the onesie being so low. :) )
D had been quiet this whole time and I truly didn't think he was really paying any attention to me talking about this whole situation.When all of a sudden...
D: "My milkshake brings all the boys to the yard...and they're like...it's better than yours!!" (
While dancing
)
Me (And Clara) seriously busted out laughing as both of us joined in and danced to Kelis 2004ish in our bathroom this morning.
I was so channeling Ross singing "baby got back" to Emma on Friends. While Kelis is probably not baby appropriate..Clara loved it! :)
*Editors note - Sorry I didn't know how to remove the "Jen Aniston Rockz from this picture" lol!
Happy Monday Everyone!